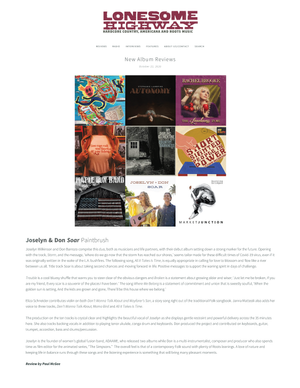 Joselyn & Don - Soar - Paintbrush 
Joselyn Wilkinson and Don Barrozo comprise this duo, both as musicians and life partners, with their debut album setting down a strong marker for the future. Opening with the track, Storm, and the message, 'where do we go now that the storm has reached our shores,' seems tailor made for these difficult times of Covid-19 virus, even if it was originally written in the wake of the L.A. bushfires. The following song, All It Takes Is Time, is equally appropriate in calling for love to blossom and flow like a river between us all. Title track Soar is about taking second chances and moving forward in life. Positive messages to support the waning spirit in days of challenge. 
Trouble is a cool bluesy shuffle that warns you to steer clear of the obvious dangers and Broken is a statement about growing older and wiser; 'Just let me be broken, If you are my friend, Every scar is a souvenir of the places I have been.' The song Where We Belong is a statement of commitment and union that is sweetly soulful, 'When the golden sun is setting, And the kids are grown and gone, There'll be this house where we belong.' 
Eliza Schneider contributes violin on both Don't Wanna Talk About and Wayfarer's Son, a story song right out of the traditional Folk songbook. Janna Matteoli also adds her voice to three tracks, Don't Wanna Talk About, Mama Bird and All It Takes Is Time. 
The production on the ten tracks is crystal clear and highlights the beautiful vocal of Joselyn as she displays gentle restraint and powerful delivery across the 35 minutes here. She also tracks backing vocals in addition to playing tenor ukulele, conga drum and keyboards. Don produced the project and contributed on keyboards, guitar, trumpet, accordion, bass and drums/percussion. 
Joselyn is the founder of women's global fusion band, ADAAWE, who released two albums while Don is a multi-instrumentalist, composer and producer who also spends time as film editor for the animated series, "The Simpsons."  The overall feel is that of a contemporary Folk sound with plenty of Roots leanings. A love of nature and keeping life in balance runs through these songs and the listening experience is something that will bring many pleasant moments. 
Review by Paul McGee